Chianti Workshop
"Opening New Doors for Magnetic Resonance"
Principina Terra (Grosseto), Italy
19-24 June, 2022
The tradition of the Chianti Workshops is based on relaxation and in particular on the presence of unpaired electrons. This edition will focus in particular on recent methodological achievements in magnetic resonances and the new doors that these technologies can open in chemistry, in life sciences and in material science.
----------------------------------------
Instruct-ing Structural Biologists Towards Integration
18-21 July 2022
Through this course participants will experience different software for integrating different Structural Biology experimental data. Renowned structural biologists will present their research for which Integration of different techniques proved to be the only way to achieve the result. Psychological aspects of science communication and philosophical implication of integrative approaches, will be also approached.
Info and Registration here
----------------------------------------
timb3 hands-on workshop
"NMR of paramagnetic proteins and applications"
7th - 8th April 2022
The Workshop will focus on the application of paramagnetic NMR, 13C direct
detection methods and on solution structures of metalloproteins.
Participants will be trained at the spectrometers, working with challenging
systems such as proteins involved into the FeS cluster assembly machinery.
They will acquire experience in the most recent NMR techniques specifically
developed for paramagnetic metalloproteins and for 13C direct detection.
Participants can bring their own samples.
The school is open to PhD students, postdocs and Early Career Investigators. A maximum
number of 10 participants will be considered
----------------------------------------
NMR Training School "Fundamentals of magnetic resonance spectroscopies and metal trafficking"
CERM is organizing a Training School, entitled "Fundamentals of magnetic resonance spectroscopies and metal trafficking". The School will involve some of the most distinguished worldwide scientists in the above fields.
It will be organized in two separate days, scheduled on October 22nd and October 29th and will take place in the form of a virtual meeting.
The Training School will cover methodological and applied aspects of NMR, EPR and bioinformatics, with a specific focus on metalloproteins.
Registration is free of charge. The school is open to PhD students, postdocs and Early Career Investigators.
To participate, the registration is mandatory at: This email address is being protected from spambots. You need JavaScript enabled to view it.
For detailed info about the event, please have a look at:
https://www.timb3.eu/2021/07/27/fundamentals-of-magnetic-resonance-spectroscopies-and-metal-trafficking-i-webinar/
----------------------------------------
"iNEXT-Discovery First Annual Scientific Meeting"
February 16th, 2021
The "iNEXT-Discovery First Annual Scientific Meeting". It will be an online Zoom-event and will take place on February 16th, 2021 .
The program, with presentations from partners and external speakers, is turning out very exciting and is open for everybody with even the slightest interest in modern state-of-the-art structural biology technologies and applications!
Details of the program and a link for registration can be found here:
https://inext-discovery.eu/events/inext-discovery-1st-annual-scientific-meeting/
----------------------------------------
"

ZOOMing on services for large and small companies"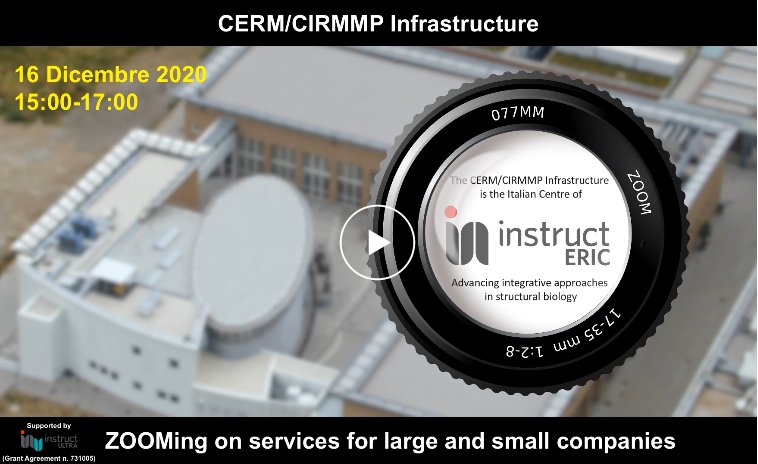 16 dicembre 2020, 15:00-17:00
info e registrazioni QUI
----------------------------------------
webinar di Enrico Luchinat
vincitore della 5° edizione dell'under 35 GIDRM awards
Friday 30th October 2020 at 15:00
per partecipare alla successiva Assemblea ordinaria dei soci GIDRM (telematica, stesso giorno ore 15.30), è necessario compilare entro il 20 ottobre un semplice modulo che trovate al seguente link:
ed essere in regola con il pagamento della quota associativa 2020.
----------------------------------------
"Biophysical Society Virtual Networking Event"
September 25th, 2020
"Magnetic Resonance meets the future of biophysics"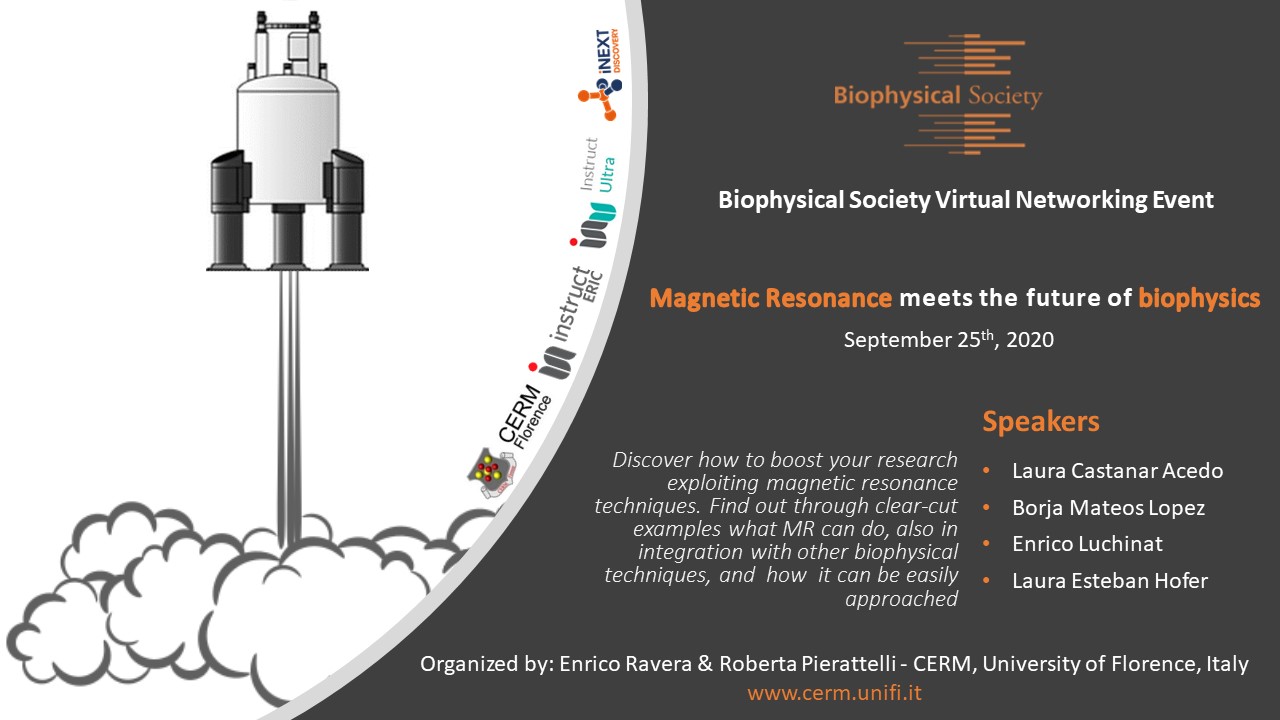 Magnetic Resonances are highly developed, non-invasive techniques that can be used to study soft and hard matter at the atomic and molecular scale. Therefore, MR plays a central role in modern biophysics.
With this event, we aim at advertising MR to the audience of biophysicists, giving clear-cut examples of what MR can do on its own and in integration with other biophysical techniques, and demonstrating that it can be easily approached and handy!
Speakers
- Laura Castanar Acedo

(Dame Kathleen Ollerenshaw Research Fellow, Manchester NMR Methodology group)
"Studying disordered proteins with distance measurements by pulsed EPR spectroscopy"

- Borja Mateos Lopez (NMR spectroscopist, Precision Medicine and Metabolism Lab, CIC Biogune)
"The hidden order of intrinsically disordered proteins and its role in molecular recognition"

- Enrico Luchinat (Postdoctoral research associate, CERM)
"Intracellular protein-drug interactions monitored in real time by in-cell NMR"
- Laura Esteban Hofer (Graduate student, EPR group, ETHZ)
"Defeating complexity: New NMR methods for mixture analysis"
----------------------------------------
Instruct-ERIC webinar series:
"Structure Meets Function"

18 September 2020
Watch the recording HERE
Register now for Instruct-ERIC 'Structure Meets Function' webinar
Featuring expert speakers from Instruct Centres across Europe, the Instruct-ERIC webinar series, Structure Meets Function, highlights some of the latest developments in structural biology, demonstrating how integrative methods are enabling scientists to decipher the mechanisms that underpin health and disease.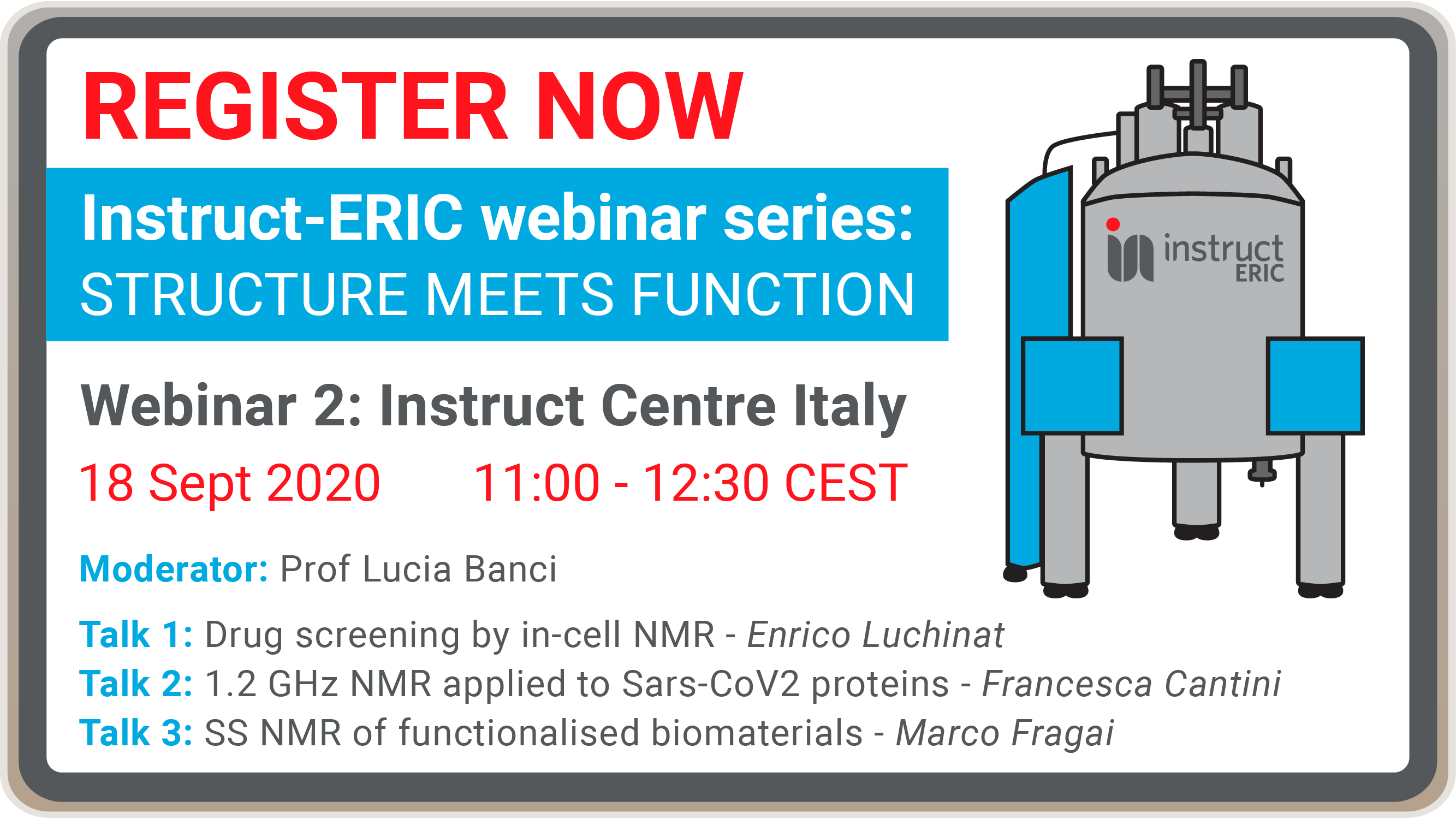 Registration is now open for the second webinar in the series, which will be hosted by Instruct Centre Italy on 18 September 2020, 11:00 - 12:30 CEST. The upcoming webinar will feature talks on advances in NMR and their application to key areas of life science research.
Talk 1: Drug screening by in-cell NMR
Speaker: Enrico Luchinat
Talk 2: 1.2 GHz NMR applied to Sars-CoV2 proteins
Speaker: Francesca Cantini
Talk 3: SS NMR of functionalised biomaterials
Speaker: Marco Fragai
Moderator: Prof Lucia Banci
View the full abstracts and register on the Instruct-ERIC website, where you can also watch a recording of the first webinar by Instruct Centre Israel.
----------------------------------------
Instruct-ERIC webinar series:
"Structure Meets Function"
Join us for the launch of the Instruct-ERIC webinar series: from structure to function.
Registration is open for the first webinar in the series, which will be hosted by Instruct Centre Israel at the Weizmann Institute of Science, on 18 August 2020 from 11:00 – 12:30 CEST.
Questions can be submitted in advance of the webinar by sending them to This email address is being protected from spambots. You need JavaScript enabled to view it..
Register and view full abstracts here